Discover everything you need to know about silicone rubber here at Viking Extrusions.
Silicone rubber is an extremely versatile material, making it one of the most popular extrusions on the market. Ideal for use in a range of applications and industries, it boasts numerous benefits and properties, and at Viking Extrusions, we have been creating high-quality rubber extrusions for over 30 years. Here we tell you everything you need to know about silicone rubber.
What is silicone rubber and what are its uses?
Silicone is a synthetic polymer created from the chemical element silicon. Silicon is the raw chemical element, while silicone is the rubber material made from the chemical element. Known by other names including elastomer and polysiloxane, this semi-organic synthetic rubber is extremely versatile and flexible.
How is silicone rubber made?
The process of making silicone rubber is complex. In its purest form, silicon is a brittle and hard substance. To make silicone rubber as we know it, the silicon atoms have to be isolated from the silica, also known as the silicon dioxide compound. By heating a large amount of quartz as high as 1800°c, the silicon atoms can be isolated.
Multiple processes follow, including combining the silicon with methyl chloride and heating the substance. This is distilled into a polymerised siloxane, which is polymerised further. The combination of silicon, hydrogen, carbon, and oxygen gives it the qualities we recognise and seek in silicone rubber.
What are the benefits of silicone rubber?
Silicone rubber can be used in different applications, making it a popular material for use in a variety of industries. One of the silicone rubber advantages is its versatility. The material works in a variety of settings and ways to support your project, but it also boasts a number of other benefits. There are numerous advantages and disadvantages of silicone rubber, and we have highlighted a few below.
Heat resistant – Silicone rubber can withstand extreme temperatures at both ends of the scale. For example, some of the components of silicone rubber are able to withstand temperatures up to 305°c and as low as -70°c.


Low chemical reactivity

– Silicone rubber has a low chemical reactivity, which means that it is less susceptible to damage from chemicals, heat, and ozone when compared to other types of rubber.
Sterile

– The sterility of silicone rubber is a key asset, especially for food and medical organisations. As a non-porous material, it isn't susceptible to the build-up of bacteria and can be blended with silver nanoparticles which then act as antibacterial agents. Silicone is an FDA-approved material and meets the requirements of food and drug associations.
High tensile strength

– General-purpose silicones tend to be more restrictive in terms of their applications when compared to silicone rubber. This is because silicone rubber has greater elongation and tear strength, making the material more resistant to fatigue and abrasions.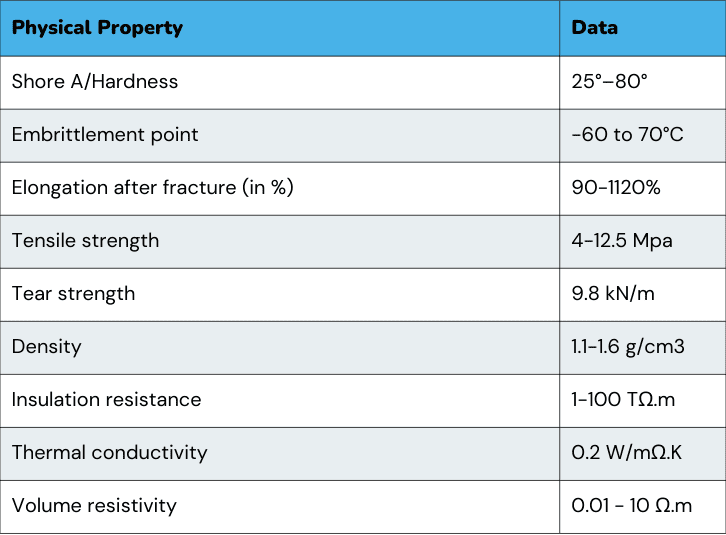 Where might silicone rubber be used?
The incredible versatility of the material means that it can be used in different projects, organisations and industries with ease. As one of the UK's largest manufacturers of silicone rubbers and extrusions, we have worked with a range of different industries and are ISO 9001 certified.
Different types of silicone rubber
There is an extensive range of different types of silicone rubber and relevant applications. At Viking Extrusions, we create silicone extrusions, fabricated silicone parts, silicone sponges, moulded silicone parts, and silicone sheeting. Some of our most popular products are:
Which industries use silicone rubber?
Silicone rubber is one of the most popular extrusions on the market and can be used in a variety of different applications. The versatility of the product means that it is used in an extensive number of industries. In fact, there are few industries that are able to use silicone rubber in some form or another. While there are industries commonly using silicone extrusions, they appear in almost all industries.
Food and beverage

Medical and pharmaceutical

Automotive and transport, including marine, rail, and aerospace

Paper and textiles

Telecommunications

Metalworking

Civil engineering

Energy generation

OE prototyping

Ovens and applications

LED lighting
The beauty of silicone rubber is that it can be used in a variety of applications and projects. Speak to our team about your needs to find out further information.
Learn how Viking Extrusions can fulfill your silicone rubber needs
We have been serving worldwide customers for over 30 years now with profiles and components that are both complex and diverse. We pride ourselves on the knowledge and expertise that is available in-house, accumulated through years of prototyping and development work.
Years of continued investment have resulted in the company owning an impressive range of plant and equipment that is both high-tech and ultra-reliable. Now we have over 8,000 stock dies for profiles, cords and tubes — ensuring that most requirements can be catered for without a tooling charge.
If you're interested or just have a question about our services, contact us today. You can email us or telephone us — we're always happy to help.