Come and visit Viking Extrusions at Silicone Expo March 21-23, 2023.
Expo 2023 is just over a month away. Silicone Expo has established itself as the one-stop shop for buying industries to find their silicone solutions. Complimentary tickets are still available so email greg@vikext.co.uk for further information.
When and where is Silicone Expo?
Silicone Expo 2023 runs from March 21-23, 2023 at the RAI, Amsterdam, The Netherlands.
Come and visit our stand! We will be at Stand 534, close to both the Networking Lounge and Sales Lounge. See the map below for more information.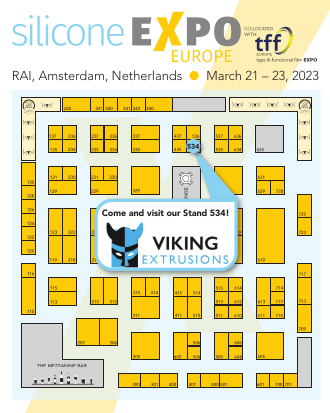 There are over 25 talks at the conference this year, and we are going to be at the heart of the action on the exhibit floor. Please drop by Stand 534 and say hi! We hope to see you there.